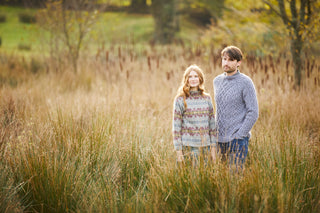 Pattern Errata
Unfortunately, some of the patterns in the books may contain an error. Please accept our sincere apologies for this and we hope this has not inconvenienced you too much. Below are the available revisions.
Westmorland
Keswick
Symbol on row 67 in the centre of the Sleeve Panel chart should be on row 68.
Lanty
Rows 23 and 48 - 60 on body chart and rows 4 - 16 on sleeve chart are in correct. The cross is misaligned in a motif.
Cumbria
Keris
Error in rows 25 – 29 of the chart.
Bowness
Chart C should read 20 rows and not 24 rows.
Bowness
Instruction for Back is to work the pattern for 52 rows and not 50 rows as stated in the printed pattern.
Grasmore
Revised button and button hole bands instructions.
Cherish
Aisling
Missing symbol on row 71, stitch 25 of the body chart.
Iona
Missing symbol on row 30, stitch 52.
Iona
Error in sleeve increase instructions.
Colleen
Error in Body Chart – Row 4, stitch 5, symbol missing.
Ciara
Size Small sleeve increase lines incorrect at top of sleeve chart. Should be 99 stitches and not 101 stitches, see new chart.
Enya
Chart A, row 7, the penultimate stitch symbol is incorrect, see new chart.
Sinead
Error on front instruction for sizes M, XL and XXL.
Gentle
Ivy
Description in Special Abbreviations added.
Primrose
Small error on size M sleeve pattern.
Primrose
Welt and cuff rib depth is 8cm and not 6cm as stated in the pattern.
Small error on body chart - row 46.
Poppy Scarf
Revised chart as the colours, Wood and Woad are reversed.
Foxglove
Special abbreviation and symbol missing from pattern and chart in first edition book.
Meadow
Cornflower
Sleeve chart missing on page 63.
Cowslip
Incorrect symbols on chart on rows 28 and 40. Symbols wrong way around on rows 56 - 61.
Mallow
Symbol missing on chart on rows 25, 27, 29 and 31.
Shetland
Bressay
Sleeve chart is missing in first edition book.
Samphrey
A couple of small errors on the chart and also instructions should say to repeat the 76 row pattern repeat throughout.
Bloomsbury
Vanessa
Symbol correction for Lotus Leaf on chart key.
Rosamund
Error in pattern for sleeve top.
Vita
Missing C6B symbol from chart key and two small errors corrected on chart.
Vita
A couple of small errors on sleeve chart.
Frances
Steeking instructions missing on information page.
Please note: Only the front is steeked on this design and not the armholes as mentioned at the start of the body instructions.
North Sea
Bute
Error on Rows 69 & 96 of the body chart.
Eriskay
One stitch is missing on the sleeve chart for sizes M, L/XL and XXL.
Soay
Error on Row 27 and 33 on the body and sleeve chart.
Skye
Error on Row 14  on Chart D.
Skye
Error for size Small  on number of stitches on the second decrease round.
Springtime
Daffodil
The body and sleeve charts are now easier to follow.
Petal
Error on Row 55 on the body and sleeve chart.
Autumn
Juniper
Small error on body chart - row 13.
Juniper
Small error on cable panel chart - row 13.
Once Upon a Time
Freddie
Error on chart for size 2/3.
Laila & Isaac
Error on chart Rows - 36 to 39.
Charlotte
Error on row 19 of sleeve chart
Filigree
Aster
Incorrect sleeve size diagram and error in joining the hem border to body and sleeve.
Buttercup
Pattern from Right Front missing.
Peony
Row 3 on sleeve is incorrect.